Props to Danny Cahill who is THE BIGGEST LOSER of ALL TIME after losing 239 lbs! That is over half his body weight and he lost more than anyone else on the show. The 40 year old musician started the show weighing 430 lbs and weighed in on last night's finale a svelte 191 lbs. He looked like a completely different person (and a little bit like Luke Perry) and I totally started tearing up when he won the $250K. Yes, I know I'm cheesy, but I was emotionally invested in his journey, he seems like a really nice guy and I was really proud of him. That's an INCREDIBLE amount of weight to lose! Apparently, back in Broken Arrow, Oklahoma, losing weight became a family affair and his wife dropped 60 lbs herself.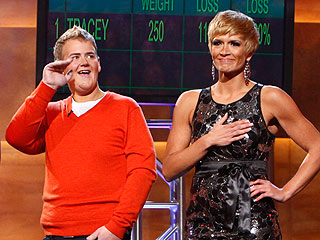 Also impressive was Rudy and Julio. I missed the last episode so I truly did not even recognize Julio! He looked amazing except for that creepy mustache. Worst fashion decision of the night was Rebecca. She's MUCH cuter as a brunette, and by going back to her blonde roots I think she aged herself at least 10 years. And just because you lost 139 lbs does not mean you can rock a sparkly mini-dress. And did you know that she and Daniel are dating?
Maybe I was a little too invested!